FUTURE U.
Inspiring Tomorrow's Innovators
Spark Inspiration. Champion Innovation. Think International.
Spectrolab Solar Panel Factory: Los Angeles, CA
Discover the special piece of technology powering everything from the International Space Station to satellites that enable mobile phones, internet and weather forecasting here on Earth. Visit Boeing's state-of-the-art Spectrolab where high-efficiency solar cells are created to support life on Earth and human exploration of space. Explore the history of satellites and find out how Spectrolab employees simulate the sun!
Boeing Additive Manufacturing Center: Auburn, WA
Explore the amazing ways Boeing uses additive manufacturing—better known as 3D printing—to design and manufacture thousands of its parts and tools. Take a tour of the Center of Additive Manufacturing Excellence, where parts, tools, and prototypes are created to support state-of-the-art aircraft. Students will hear from a variety of experienced manufacturing professionals and learn how specialized simulation software and lasers are used to help streamline the process.
Boeing's Vertical Lift Division: Philadelphia, PA
Go behind the scenes of one of the most advanced helicopter manufacturing centers in the world to learn how vertical lift vehicles are created. Visit Boeing's complex in Ridley Park, Pennsylvania, where over 6,000 employees work daily to build and restore the powerful H-47 Chinook and other aircraft. Students will meet a chief test pilot and discover how extended reality technology is used to solve problems on the manufacturing floor.
Virtual Field Trip: Live Now!
Immerse your students in a dynamic virtual experience that offers an exciting view into Boeing's manufacturing centers, bringing aerospace innovation to life. Standards-aligned companion activities encourage deeper student exploration into key themes including sustainable flight and aviation designs.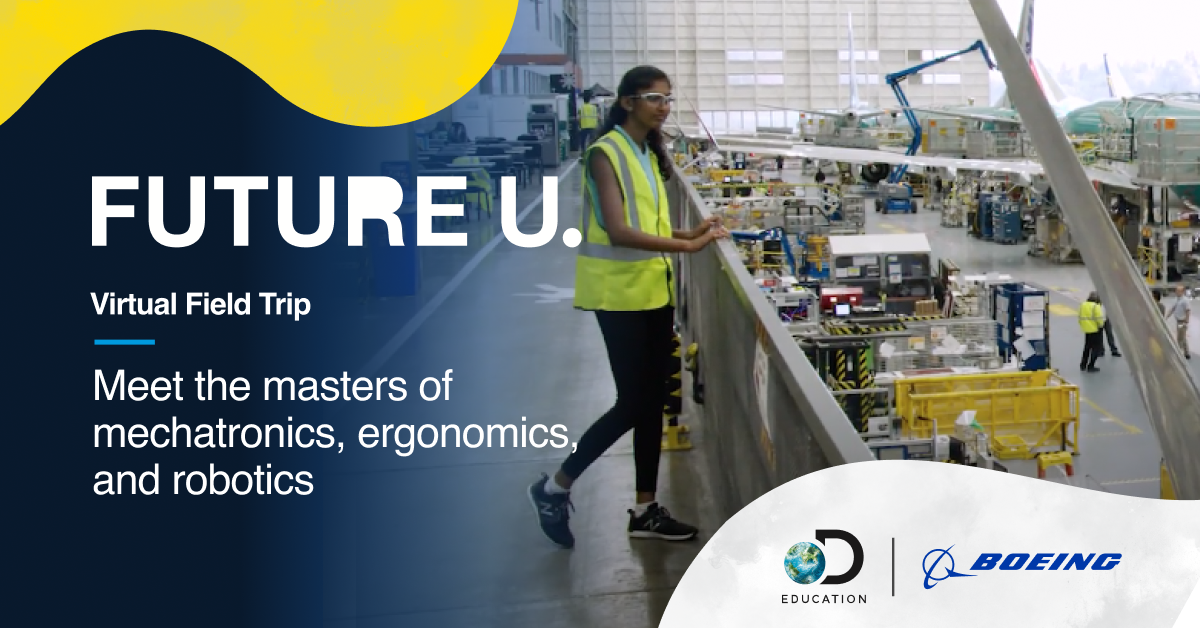 Manufacturing the Future of Aviation 
Discover the ways that cutting-edge technologies are being used by Boeing to redefine the possibilities of aviation manufacturing. Take students on a tour of three incredible manufacturing centers around the country to learn how mechatronics, robotics, and ergonomics are driving innovation in aviation. Along the way, students will meet a variety of diverse STEM professionals who harness groundbreaking technology throughout the manufacturing process. 
Virtual Experiences
Explore aerospace technology with virtual field trips to exclusive locations and interactive videos that transport your students to new terrain. Extend the experience with hands-on, standards-aligned activities.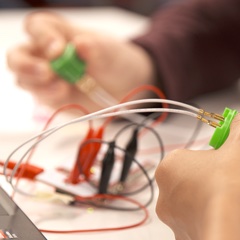 About FUTURE U.
FUTURE U. provides educators with the tools they need to inspire their students to use creativity, collaboration, persistence and problem-solving to change the world. Geared towards students in grades 6–12, FUTURE U. uses hands-on, experiential learning to ignite excitement and inspire them to become tomorrow's innovators.